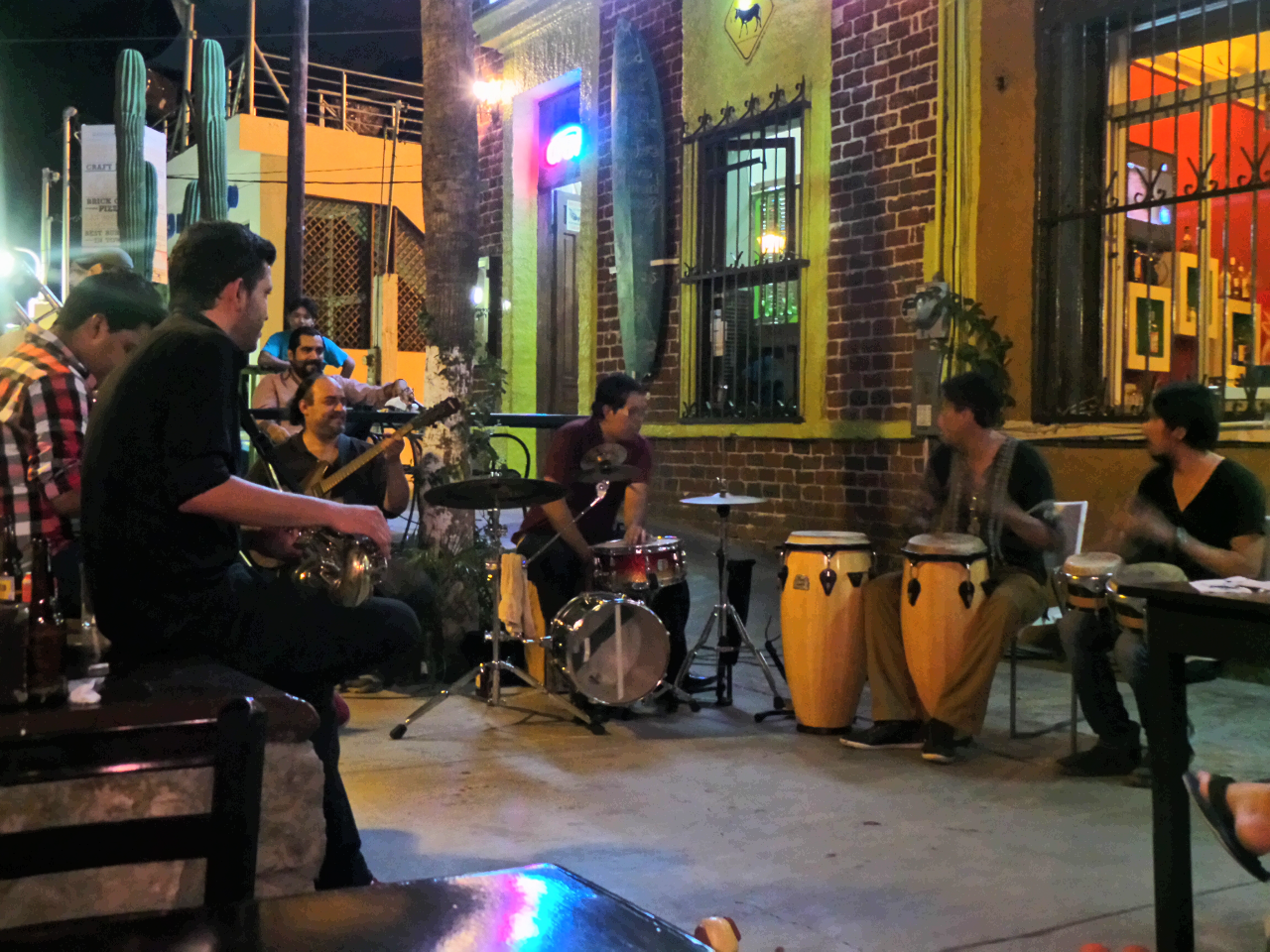 La Paz, Baja California: Out of gas
October 3rd, 2014 – October 5th, 2014 (130km)
La Paz, Baja California Sur ($3,800 mxn)
While Dominic and his gas-thirsty motorcycle stayed put, Tom and I tried finding someone to sell us fuel. We were in a minute town, somewhere in between San Evaristo and La Paz, Baja California Sur. There were no gas stations here; it was a small town of dirt roads, with few stores built into the front patios of humble homes. We had no luck finding gas and made a run for it, hoping we could reach La Paz. Once we were far enough that small town, but still far from the next gas station, Dominic's motorcycle sputtered out. Tom and I had short distance left in our tanks.
We had decided to combine Tom's gas into my tank, strap Dominic's tank to my top rack, and I would set out for La Paz, fill up both tanks and come back for Tom and Dominic. Shortly before executing the plan, a pick-up truck stopped by and offered us help.  Two men got out of the truck, one seemed to work for the other since he seemed to be receiving orders from the gentleman dressed in nice jeans, cowboy boots, and a ranchero long sleeve, button-up shirt. Turns out this man owns heavy machinery back in the small town we had passed by. The ranchero had his helper bring down a jug of gasoline from the truck bed and pour about three gallons into each one of our gas tanks, which was by far more than we needed. They then showed us the way to the next gas station in La Paz. After we finished topping off our gas tanks, Mr. Ranchero refused to accept our money for his gasoline and help; he simply said good-bye and took off.
One month had gone by since we began this adventure and we were just now in La Paz, getting ready to leave the Baja California peninsula. This was supposed to be a four-month roundtrip from San Diego to Panama and back. It was already foreseeable that we would not make that deadline. We decided to skip on everything south of La Paz since hurricane Odile had caused substantial damage in Cabo and we heard rumors of people mugged for food and water. Places like Cabo Pulmo and its national marine park wonders would have to wait for another time.  
After a week without a proper shower, one of two things had happened: 1) I no longer had a stench to myself or 2) I could no longer smell it. Either one, it was time for a warm shower and a comfortable bed, so we opted to stay in a hotel in La Paz for the next two nights.
La Paz itself had attractions both on land and in the sea. A pretty boardwalk, full of bars, restaurants, nightclubs, cafes with live music and an occasional wrestling ring with Lucha Libre. Off land, I am sure there is excellent fishing and snorkeling by the Espirito Santo Island, as well as swimming with whale sharks and other sea creatures. For this time, we decided to stay on land and regain our energies the past week had drained.
In a previous post, I had written about seeing bicyclists along the road of the peninsula and how a wrong turn could affect their plans. In La Paz, while waiting for a heavy rain to pass, outside of a super market, we met two brothers who had travelled that rode on bicycles and were on their way south.  The rain gave us time to share experiences with them, compare and contrast modes of travel, and exchange information each might have about the places to come. They were also getting the ferry in La Paz to make the jump to mainland Mexico. However, the public ferry was only making trips to Los Mochis for now, the bicyclists wanted to get to Mazatlan, some 250 miles south. For Dominic, Tom and I, it would be easy to hop on the bikes, open the throttle and cover that distance in one day. For them, though, it meant several days' worth of time and effort, so they would try to convince a private ship to take them to Mazatlan. I did not see them on our ferry, so I am assuming they got their way or would be traveling another day.
While waiting for the ferry, once we passed customs checking our paperwork and that of the bikes, we met Thomas and his BMW 800cc motorcycle. Thomas and his bike flew out of Germany and into Alaska, in order to complete the commonly sought after Alaska to Patagonia route. He explained to us his allocated time from beginning to end was of 6 months! Comparing this to our loosely structured itinerary of 4 months roundtrip from San Diego to Panama, Thomas needed to cover incredible amounts of distance every day to stay on track. I suppose it all boils down to what one truly wants for his or her adventure. There is no right or wrong when choosing between covering more distance or taking your time. Along my travels I met people who had been on the road for years, proving time is relative in this sense.  
With that, we rode our motorcycles into the floating building this ferry was, strapped them secured and headed upstairs for one uncomfortable overnight ferry trip to Los Mochis, Sinaloa. Mainland Mexico promised to be an entirely different landscape than the Baja peninsula, in every aspect. Baja California Sur is the least populated state in all of Mexico, with towns and cities spread so far apart, one can choose to camp anywhere of the side of the road. Mainland Mexico, however, is more populated, cities are bigger and finding an isolated camping spot would require more time in finding, which meant more hotels. As part of the adventure, I looked forward to a change and the unexpected events this change would bring.