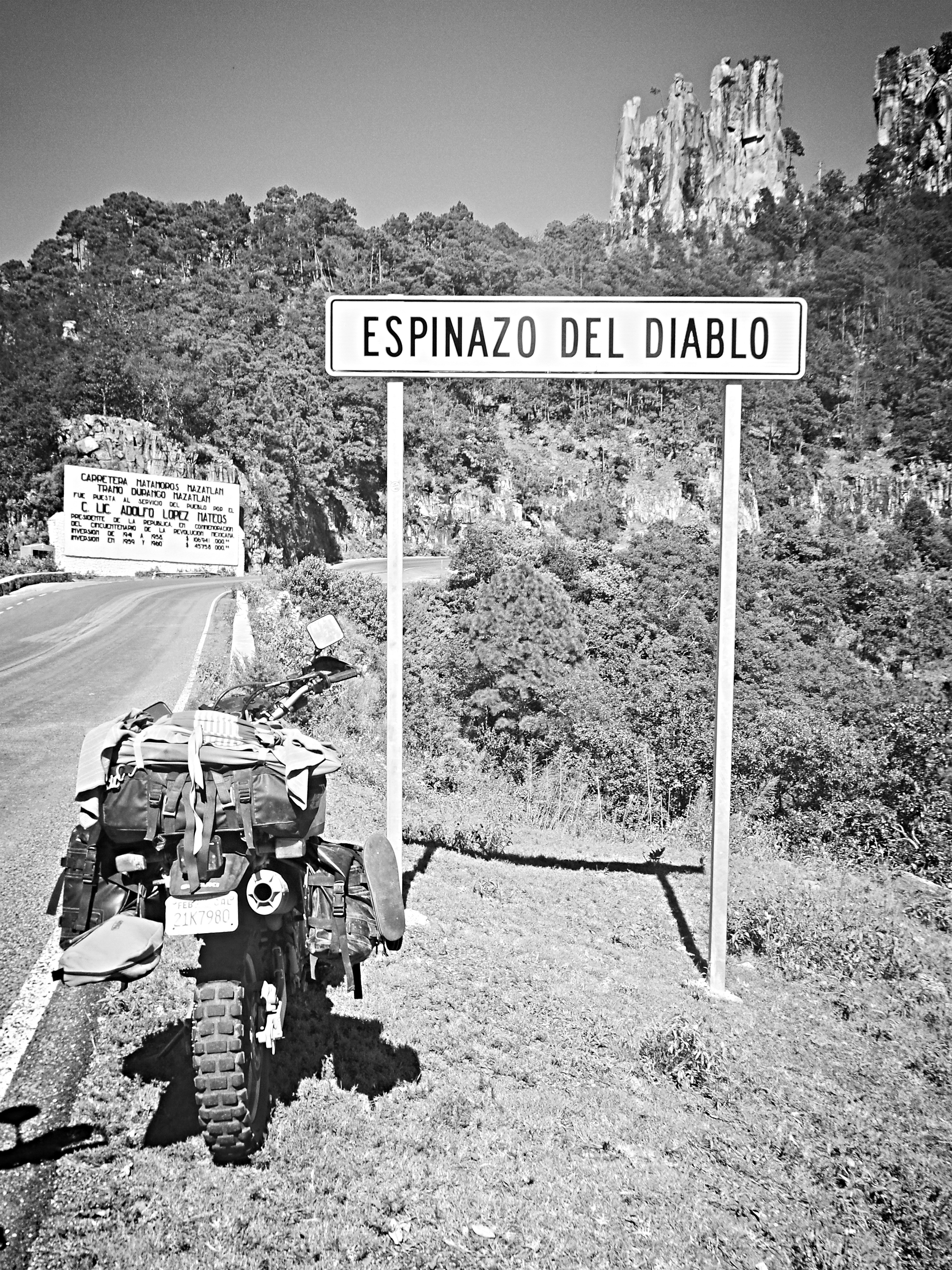 Durango: Devil's Backbone
October 6th – October 10th, 2014
Los Mochis ($1,240 mxn)
A man in his late 50's, wearing work pants and a white tank top, outside his house, welding some metal structure together, when a motorcyclists drives up to him, eerily stares and says nothing. The man gives the motorcyclist a confused look and hesitantly returns to his welding. A few more seconds go by, and the man utters an unfriendly "what's up!"
I proceeded to take my helmet off, switched the stern face for a friendlier one, and said, "Uncle Ebelio, it's me!" My uncle was still perplexed. "Luis!" He finally recognized me and greeted me with a hug. I never told my family I would be stopping by to visit on my way through Los Mochis, Sinaloa, which is where my mother's side of the family lives in. 
Tom, Dominic and I had decided to take a few days-long pit stop to take care of a few things. I personally needed a cobbler to fix my riding boots; I had walked on them so much they needed a good stitching. The weight on the top rack of my motorcycle had also began to open a crack on the main frame and needed some welding. Fortunately, my uncle is a welder and works from home, so I had him give me a condensed Welding 101 crash course and took care of that.
It was nice to have visited my family on this trip, and once again see the place where I spent my childhood summers. I caught up with my family, my cousin took us out to catch shrimp at the Ohuira Bay, I got my boots and motorcycle fixed, and was ready to hit the road again after a few days.
October 11th – October 13th, 2014 (680 km)
Los Mochis – Durango ($1,590 mxn)
 We had no business in the city of Durango itself, but the road getting there was one we could not pass on. The old road connecting the cities of Mazatlan and Durango, to its northeast, is one of the most dangerous roads in Mexico due to its countless hairpin curves, narrow lanes, and number of robberies occurring along it. It is called El Espinazo del Diablo (The Devil's Backbone). Despite the discouraging items on that list, El Espinazo del Diablo offers breath-taking panoramic views of the Sierra Madre mountain range and is particularly enticing for motorcyclists given the abundant number of curves.
After waking up at the beach we camped in Mazatlan, we decided to ride to Durango via the Devil's Backbone and come back the next day on the new toll road to continue south along the coast of the Pacific. Due to the characteristics of this road, the tight turns and narrow lanes, the average speed was such that it took all day to get through it. Although a large oncoming truck occupying both lanes on one of the curves was dangerous, we did not encounter any other threats, like robberies or road hazards. We were able to focus on the tall mountainsides to our left, the deep canyons on our right, the profuse, rich green of the flora around, and an occasional creek running down the side of a mountain. All this together placed El Espinazo del Diablo on the Top 10 roads of my motorcycling experience.
October 14th, 2014
El Salto del Agua Llovida waterfall ($160 mxn)
The Devil's Backbone was the old road connecting the Pacific coast to the city of Durango and it took us about 6 hours of riding to complete it. As much fun as that road had been, our plan was to take the recently opened toll road that ran parallel to El Espinazo del Diablo. It is a toll road known for its many tunnels and bridges, including the famous Baluarte Bridge, for cutting the travel time between the two cities to less than half, and for being one of the most expensive toll roads. However, if you are willing to get off and on the road at key points, going through an occasional small community, it has been known you can save on one or two tollbooths.
Both of the before mentioned roads were the objective of our detour to Durango but, since we were there, we decided to make a day trip to the Cascada el Salto del Agua Llovida (Leap of the Rained Water waterfall) located a few hours southwest of Durango. The main road out of the city took us to a smaller paved road, which then turned into a smaller road yet and, eventually, we were riding on dirt roads for hours in the hilly countryside cutting across small communities and curtains of tall, green trees around.
Once we reached these small, rural communities, finding signs leading towards the waterfall was useless. That is when I saw a kid walking alongside the road. He must have been 13 or 14 years old, going to or from school, since he had a backpack and uniform looking clothing on. I stopped to ask him for directions to the waterfall. When it comes to finding a place, one can do as much research as possible, but the best sources of information are always, invariably, the locals. The kid told me we were going in the wrong direction and needed to backtrack. By this time, Tom and Dominic were out of sight ahead of me. I offered the kid a ride up to the point where they were hopefully waiting for me.
Sometime later, we stopped at a house in the forest with signs of Coca-Cola and other brands, as is common in Mexico when people build tiny stores into their front patios or living rooms. We picked up supplies and asked the storeowner if he was willing to cook dinner for us and we would pay him for the food and inconvenience. The man gladly, and without hesitation, accepted. He took us from the living room his store was into his home kitchen where his wife and family were. They sat us around the table and offered us beverages while his wife cooked for the entire family. We ate an early dinner in company of people we had just met, but quickly demonstrated to be humble and well intentioned, taking three complete strangers into their home.
Actions like these are one of the heart-warming aspects of travel I enjoy the most, discovering the good in others that are willing to help. That day it was a meal, but other times it has been a place to stay, gas to our empty tanks, a tour around the city, safe guiding through a dangerous town or just good wishes sent out way. Most of the time, I won't see these people again to pay back their acts of kindness, so I make sure I pay them forward to the next person in need and, thus, creating an endless chain of rolling favors helping other strangers.
Upon us leaving the man's house and his family, he would only accept our money for the supplies we initially got at the store, but nothing for the meal or the cooking.
We reached the waterfall well before sunset. We rode our motorcycles right next to the top of it. Initially, I was not aware we were there yet, I could not see the waterfall, and with the loud motorcycle engines, I could not hear it either. I parked the bike, and walked to the edge to peak. To this day, I remember the way that view made me feel more than anything else; seeing the nearly 100 meters of water free falling through a rainbow, the noise of each drop colliding together and hitting the rocks below, getting lost in the river flowing away from me. I experienced extreme joy just being there. I felt I wanted to cry from how satisfied I was, I don't know why, though, perhaps because I had never seen anything like that waterfall before.
We set up camp next to the waterfall and explored up the two small rivers feeding it. I sat down on the ledge, with my feet hanging off the cliff, looking down the precipice, taking in the whole scene of nature; surrounded by green hills, tall trees, water flowing, no one around except us and several iguanas relaxing on the rocks, like me. A few entries back on this blog, I spoke about that list of the best places to camp every traveler has. Well, El Salto del Agua Llovida waterfall is definitely up on that list, near the very top of it.
Since I'm talking about lists, I might add that this spot also made it to another top chart, the "Instances in which I've been miserably cold" list. That night, I curled up inside my sleeping bag, over my sleeping mat, inside my tent, with my rain fly over it, I put on every item of clothing I had, and I was still shivering. Despite that miserable night, if I could camp there again, I would… with warmer gear. 
Video of the Adventure: