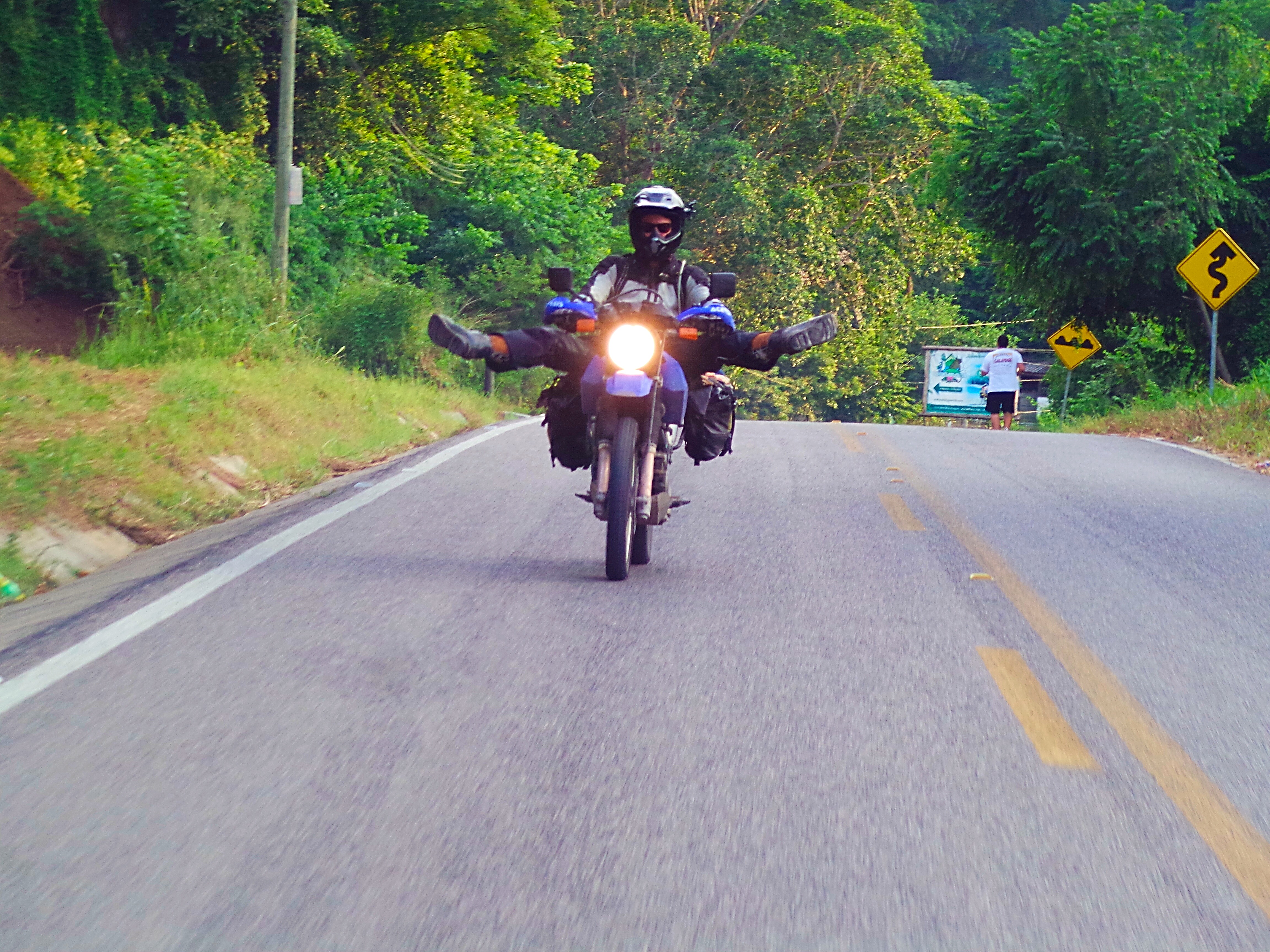 San Pancho, Nayarit: Failed wheelies, bribes, and tire bowling
Friday 17th, 2014 – February 25th, 2014
San Francisco, Nayarit ($3,490 mxn) (115km)
Windy road with just enough curves to keep you entertained, one lane each way, and towering trees and other vegetation on both sides nearly closing the space above. That was the road South of San Blas, in the Riviera Nayarit on Mexico's Pacific coast.
We were already within the coconut territory and drinking refreshing coconut water was the latest thing for Tom, Dominic, and I. We stopped at Rincon de Guayabitos, a beach town, solely for that purpose. Standing on a street corner was a wooden cart, with a bicycle wheel on each side and grab handles on the rear to push the cart, it had a large umbrella to provide shade from the beating sun, and two or three machetes the owner used to cut open coconuts and pineapples. Instinctively, I imagined the coconut dealer on the street corner would be a man, tanned by the daily sun exposure, with a mustache and a beard, hacking away at all the coconuts. Much to my surprise, the coco seller was a beautiful woman of fair skin, who made me sigh in admiration while she masterfully sliced through coconuts with a machete. No mustache or beard, either.
Further south on the Riviera Nayarit, we stopped in the cozy town of San Francisco, affectionately known by the locals as San Pancho. It was not only a beach town, but a popular surf town, as well. More of the backpacker style rather than the fancy traveler. From Italian food to traditional Mexican cuisine, there were small, simple restaurants on both sides of the main street leading down to the beach, where you could find people resting in hammocks enjoying the cool breeze, others sunbathing or running on the beach, and many more surfing the waves. It was peaceful, and we instantly knew we wanted to stay the night at that town.
We set out to look for accommodations for the night and explored the neighborhoods on the hills. Coming up the top of a sloped street, Dominic attempted to wheelie his motorcycle, accidentally overdoing it, and disappeared from my view over the top of the hill, where I only heard metal screeching loudly on the asphalt. By the time I came up to the scene, Dominic was just getting up to his feet and his motorcycle had slid some 15 meters down the street. Fortunately, Dominic suffered no injury and neither did his motorcycle. His speargun, though, tucked in between the bike and a saddlebag, had snapped in half.
A local, who was cutting grass and pulling weeds on his property, came to help me pick up the motorcycle as Dominic recovered. The young helpful man was actually a Canadian who had come down years ago, bought a small property, and worked at the local surf shop. He had discovered what he needed to be happy, living in a calm town and doing what he was passionate for, which was surfing. We would meet him again in the following days at the surf shop he worked at.
With a broken speargun, but intact spirit, Dominic, Tom and I, rode back to the beach in search of Jesus. The Canadian had spoken to us about Jesus and said he could help us. Turns out Jesus is a local who owns a large fenced campground on the beach, with showers, restrooms, palm trees and, yes, coconuts! We set up camp and left it there without worries for as long as we stayed in San Pancho.
One of the days, we made a ride out to Punta Mita for the good surf it provides. Sadly enough, large hotels and resorts have closed off the access from the street to the beach, leaving the only access through the hotel itself. We kept riding in search of another way in, and eventually found it, but had to walk for a while through bushes and trees along a dirt trail to make it to the beach. It's interesting that I personally went through it all, because I'm not even a good surfer to begin with! Nevertheless, I must say I enjoy being out in the water, occasionally being rattled by a wave or two, and even less frequently actually catching a wave.
On the way back to San Pancho, my rear tire decided it had had a good life and popped. Upon inspection, I had actually worn it out so much that it reached the inner tube! I had occasionally checked my tire for wear and tear with a quick glance at it and it had seemed like it still had some life in it. Further inspection revealed I had improperly balanced the wheel when I added a rim lock, causing significant more wear on one side than the other. On the side of the road, waving my hands at every pickup truck that passed by, eventually one of them actually stopped and agreed to help take my motorcycle back to San Pancho in exchange for gas money.
The next morning I called a motorcycle shop in Puerto Vallarta, the next big city south, and the best they could do for me was to get a replacement shipped to them from somewhere else in the country which would take several days. We were staying in a great beach town, there was no rush, and I didn't have much option, so I took the deal. We spent the next few days camping, drinking coconut water, surfing, and choosing a different restaurant to dine in, but oddly enough seeing the same live bands play. It seemed each band would play at one restaurant and move to another the next day. One of the nights, I saw a violinist play in front of a crowd outside a café, she was very pretty, her enchanting music in combination with the starry night sky, and the sound of the waves, made the experience soothing.
When I received the notification from the motorcycle shop that my order had arrived, all three of us rode out to Puerto Vallarta on two motorcycles. In the city, I went ahead and purchased a set of mirrors for my motorcycle, since mine were broken somewhere in Baja California, and acquired sticky weights to correctly balance my wheel and prevent all this from happening again.
There are plenty of motorcycles in Mexico, most of them being smaller engines, used for delivery purposes and getting in and around the city with ease. Our midsize motorcycles, noticeably larger than the daily commuter in Mexico, stood out, having California license plates didn't help much either. Therefore, I was not very surprised when a traffic officer pulled us over for no apparent reason, perhaps expecting we only spoke English, we would panic, and give him whatever we wanted. He was visibly surprised when I asked him, in my native Spanish, why he had pulled us over. He hesitated and said our motorcycles were "too loud" and then proceeded to say he would retain our driver's licenses and we could pick them up at the office once we paid our ticket but, since it was Friday, we'd have to wait until Monday to pick them up. Tom had handed him an International driver's license he purchased for $15 USD at his auto insurance back home, keeping his official one with him. Dominic only had his government-issued license and was now in the officer's hands, so we were obligated to play the officer's game. I cut to the chase and asked "How much?" This time, without hesitation he replied, "However much you think is good." Wrong answer, if you're going to take a bribe, at least do a good job at it, don't leave it up to me because I'll give you the smallest bill I can find, which was a $50 pesos bill (less than $5 USD). The officer scoffed, laughed sarcastically, shook his head, as if I was offending him, but still took the money and took off!
Back at camp, we finished installing the tire, balancing my wheel, and were ready to head out the next day. We certainly stayed longer than anticipated, a total of 9 days, which I believe was the most we spent at any one spot during this trip.  It is curious to think 9 days is about one is able to get off work for vacation and yet, on this trip, it was nothing but an extended pit stop. Those were good times.