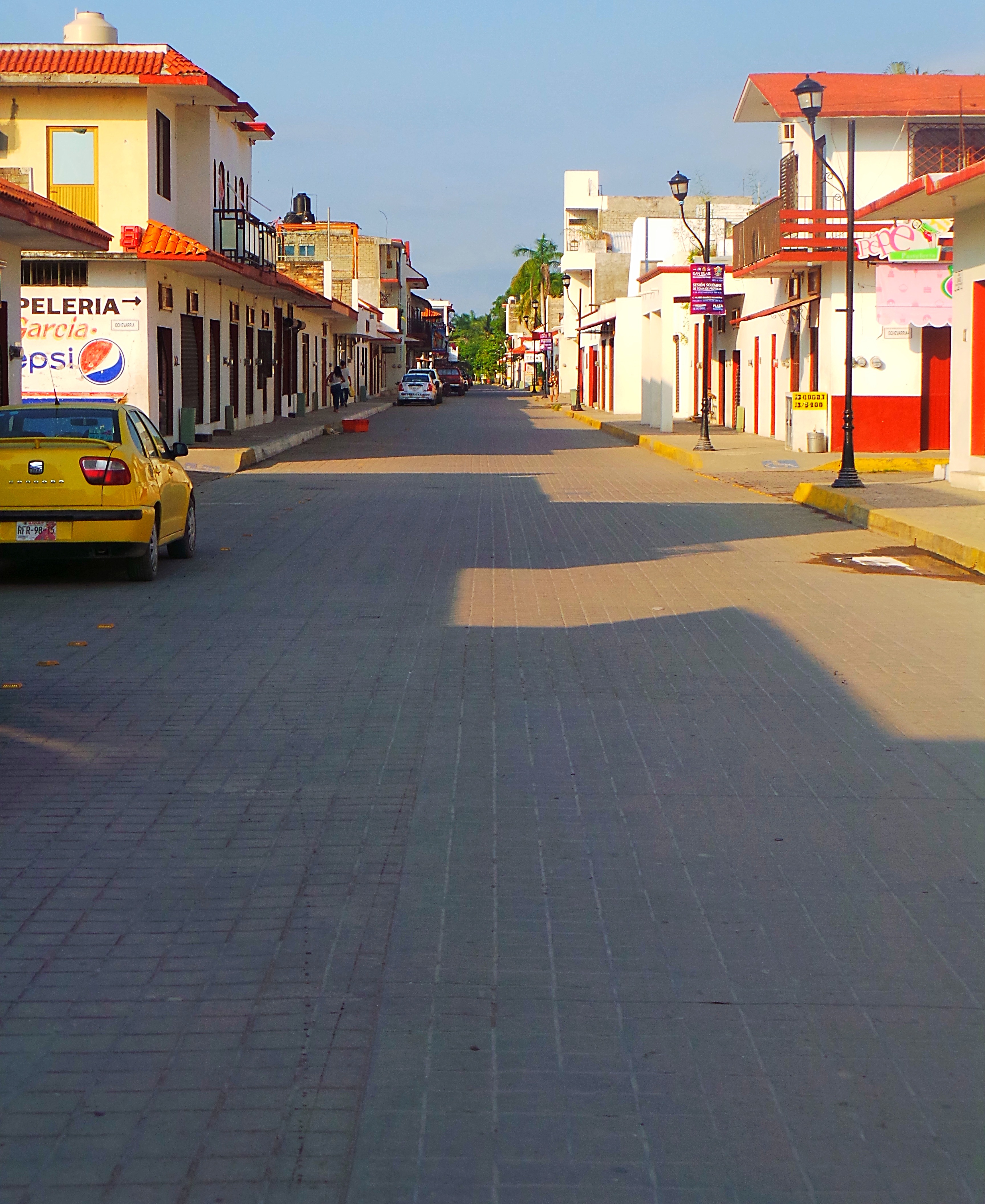 Sinaloa-Nayarit: Don't talk to strangers!
October 15th, 2014 ($465 mxn)
Escuinapa, Sinaloa (290 km)
"Hey, you guys need a place to stay tonight? Follow me, c'mon!" A man at a gas station in Escuinapa, Sinaloa, shouted at us from within his fancy white truck. If a group of organized crime, wanting to lure in travelers to later strip them of their valuables, was sitting inside a think tank wondering what would be a good way to catch the victim's attention, I feel confident in saying one member would propose "Why don't we just hang out at a gas station and offer to take the travelers to a place where they can spend the night, and then we strip them of their valuables." To which another member would respond "Yeah, that sounds like a solid plan, let's do that." They would all vote on it, it would pass, and next thing you know a man in a fancy white truck sees three motorcyclists roll into the gas station.
It was dark when we rode into the city of Escuinapa in the state of Sinaloa. This state of Mexico is known for many great things, but also for violence and drug cartels. Motorcycle riding basics states no night riding when in third world countries. Well, we had skipped that bullet point many times by now, but riding in this town at night was not giving me a good vibe, I wanted to get off the streets, quickly. Knowing what I knew about this state and the negative vibe I felt about this town, why would I ever decide to follow a stranger waiting at a gas station in a fancy white truck offering to take us to a safe place for the night? We would have no explanation whatsoever if it was indeed a trap. What would we tell our friends and family? "We were mugged because we decided to follow a stranger in the middle of the night who offered to help while in Sinaloa?" Long story short, Dominic, Tom and I found ourselves tailgating a fancy white truck in hopes the stranger would lead us to a secure location. I remember thinking my mother would not have approved of that decision.
Surprisingly, but fortunately, the man in the fancy white truck actually took us to a decent hotel, which had a gated parking lot with a security guard all night where our motorcycles would be kept safe, and got us a discounted price for the room. It was perfect, actually. You see, when searching for a hotel, one looks for specifics depending on what the needs are. If price is not a factor, then one may seek out comfort and location as their number one priority. If you're motorcycle travelling with limited economical resources, comfort and location may not be the first thing you think of when looking for a place to spend the night. Our scenario being the latter, with an emphasis on "limited economical resources", we mainly searched for a place the motorcycles would be safe overnight and an inexpensive room. Gated parking lot is good, security guard is a plus, room close to motorcycles is great. This is why our place of choice in the cities was always a motel, like the one a man would take his mistress, with the room upstairs and a complete garage with an automated door, so the wife cannot see the husband's car if she drove by. These motels, or fucking motels, as one German traveler we met in La Paz referred to them, were inexpensive, and had a safe place for our motorcycles; we wouldn't even have to unload the luggage.
It turns out the stranger in the fancy white truck was the owner of that hotel. He led us to it, spoke with the woman at the counter, pointing to us repeatedly to make sure we got a discounted room, or probably telling her "these are the new victims, let me know when the job is done". He then told us where to store the motorcycles, introduced us to the guard who would watch over them, or strip them and sell the parts, and then took off, back to the gas station perhaps.
October 16th, 2014 ($600 mxn)
San Blas, Nayarit (190 km)
As we left the city of Escuinapa the next morning, on either side of the highway were endless number of stands one next to the other. They continued for a few kilometers! Each one of these stands sold, among other things, the typical food from Escuinapa, tamales barbones (bearded tamales), which were essentially shrimp tamales. A huge component of travelling is the cuisine one encounters while visiting different places. Whether it is tacos, pupusas, patacones, chocolate, mescal or, in this case, shrimp tamales, one needs to at the very least, get a taste of it. We pulled over to one of the many stands and bought a few to go, packed them and continued on the road.
In the next few hours, our trip would transition into an entirely different climate. We entered the state of Nayarit and took a right off the main highway, shortly before the state capital of Tepic, towards San Blas on the Pacific coast. It was somewhat a windy road, with profuse vegetation around. On the side of the road there were hand-written signs every now and then, most of them selling the same thing: coconuts. From that day, there would be coconuts in our lives for months to come. We stopped at one of the signs and ate our tamales barbones with refreshing coconut water.
We explored the city of San Blas, its port and La Contaduria, which are the ruins of an old Spanish fort at the top of a hill. We visited one of the beaches and, while Dominic and Tom were already in the water, I walked away into the bushes to, uhm, take care of physiological needs. Shortly after, I felt a bug bite in my leg, then another, and another. I was raided by what we later found out were Jejenes, or sand flies, also commonly known as no-see-ums, or "little dinosaurs" as a local put it. I came out of the bushes and ran straight into the ocean to get away from all the bugs! I told Dominic and Tom, and for the next 30 minutes or so, we remained in the water, dreading the idea of coming out. I took a few deep breaths and ran out of the water, raced to my motorcycle, dried myself, changed in record time and rode away from that beach.
"Safe travels", "Be careful", "Take care", "May the force be with you", are all farewells we say to someone who is parting out on adventure. Taking a moment to reflect on the topic of "Safe Traveling", and how we decided to follow a stranger that night in Escuinapa, there had already been several instances in this trip where we ignored basic safety tips of travel. The "no night riding" rule was broken from the very first day. "Don't get into a stranger's car", "do not follow strangers", "only drink bottled water", we had chosen to ignore these and more up to this point. Having come out safely is no excuse to continue about carelessly. Despite this experience, if I am ever asked, I will always encourage others to plan accordingly and, as much as possible, adhere to safe traveling tips, and equally as important, stick to your gut feeling. Safe travels, everyone.